If you are an art lover do not miss out Edakkal caves while visiting Wayanad. Edakkal cave is a captivating prehistoric cave located near Sulthan Bathery. The excellent rock engravings found on the cave walls have drawn attention of worldwide historians and archaeologists. Edakkal caves comprise of three distinct sets of petroglyphs. Archeologists suggest that these cave etchings date back to at least 5000 years. Edakkal caves have been inhabited at various historic stages.
In Malayalam, Edakkal literally refers to "a stone in between". The term Edakkal is used to denote how the cave is formed in a fissure in the rock. There are two levels in the inner portion of the Edakkal cave. The lower chamber measures eighteen feet long, twelve feet wide and 10 feet high. The lower chamber can be entered through a 5 x 4 feet opening. A passage leads upward through which one climbs to next storey measuring 96 feet long, 18 feet high, and , 22 feet wide. The sunlight enters the Edakkal cave through a big fissure giving natural day light to the dark cave interiors.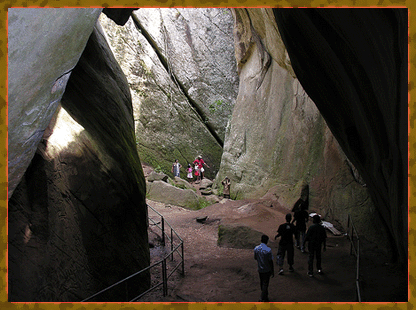 Similar cave drawings, considered to be 7000 years old, are found only in Stiriya in the European Alps and a few rocky places in Africa. The caves, which are found around 10 km from Sultan Bathery, are two natural rock formations believed to have been formed by a large split in a huge rock.
Some consider the carvings as handiwork of Kurumbars tribes of Wayanad. This cave is indeed an archaeological treasure with undiscovered historic facts. This cave is also an excellent trekking spot. Edakkal cave in Sulthan Bathery is an excellent historic treasure which is yet to be completely explored.


How to reach
Nearest railway station: Kozhikode Railway Station about 97 km from Sultan Bathery.
Nearest airport: Karipur International Airport about 23 km from Kozhikode.